25 Feb

6 Tips To Decorate Your Home With Mirrors

source: rexohome.com
No matter if you have big or small home, adding mirrors is always beneficial. There is almost no other way to add as much visual space as with mirrors. Their reflective surface visually expands the space of the room. As an added benefit, mirrors look good. In almost every modern and contemporary home, there is a focus on the mirrors.
And they can be added in a variety of ways. Their versatility makes them perfect addition to your home. We present you six ways how you can add mirrors to your interior design.
1. Floor to Ceiling
The best way to make the space feel more spacious is with a floor to ceiling mirror. No matter which room you put them, the effect is marvelous. If you are afraid of a claustrophobic room, floor to ceiling mirror is the way to go. This effect especially applies in the dining room, where if you feel suffocated by the four walls, one wall can be transformed into a mirror.
2. Mirrors and Dining Table


source: openspacesfengshui.com
Another trick for the dining room, is adding a mirror that reflects décor or scenery. Make sure to put the mirror right next to the dining table. Think what you can put opposite the mirror in order to reflect it. For example, a good idea is to place a pendant light, and the mirror will reflect it.
3. Mirrors and Depth
Now, while most of us think about mirrors as simple elements, there are some designers that love to add additional depth to the room with mirrors. One way to achieve the goal is to frame your mirror. But this works only on wall mirrors. A simple plate glass mirror can be framed with a sleek trim. This gives the space even more depth.
And, as an added bonus, you get to decorate your mirror with a frame of your choosing. Most people go simple wooden frames, but you can experiment as much as you like.
4. Geometrics
Geometrics are a big part of modern and contemporary design. When homeowners and designers want to add geometric elements to the environment, they rarely think about mirrors. But your mirror doesn't have to be in full display.
You can play as much as you like. Think what happens when you throw a rock and break a window. All those lines that happen afterwards can be custom made. This way, your mirror can mimic several geometric forms, add playfulness and life to the space.
5. Solution for all white décor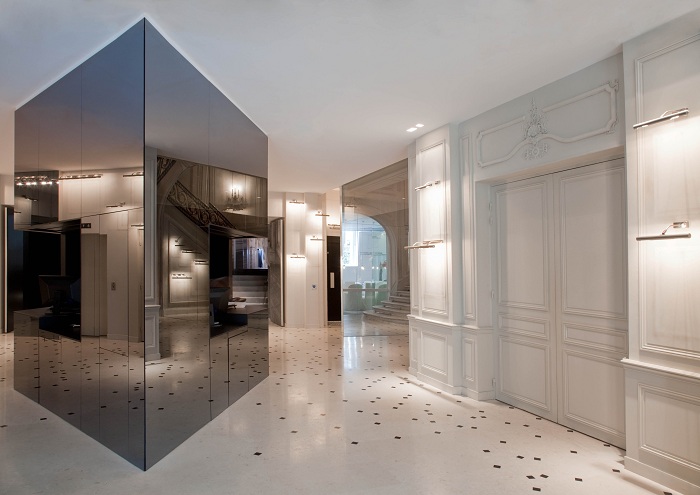 source: cheriecity.co.uk
Going all white is very popular choice nowadays, with the rise of Scandinavian design style. Modern and contemporary styles can also stick to an all white home from time to time. But the challenge always is, can the all white décor looks a bit more playful. In most cases, all white environment looks surgical, dull, and honestly, like you are in a hospital, not in a home.
The solution is very simple. A tinted mirror, positioned in a skillful manner, can provide some color for an all white interior. The mirror can be placed anywhere, in the hallway, in the living room, dining room or anywhere else. It can also be a floor to ceiling mirror, or a smaller version.
6. 3D Television
Adding an extra dimension behind the TV is one of the latest trends in interior design. Some go with brick like wall, picture, wallpaper, or something similar. But why don't try a mirror behind the TV? Of course, for this to work, the best way is to have a woody theme, and the mirror must reflect the sofa in the living room.